Constipation in Babies – Symptoms, Causes and Remedies
Constipation in Babies – Symptoms, Causes and Remedies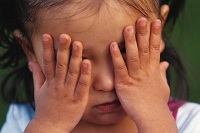 Constipation in babies is defined as a condition in which there is difficulty in passing stool, resulting in hard, dry feces.
Constipation is quite rare in exclusively breast-fed babies, but it can occur in formula-fed babies. As babies grow up and start having solids, they can become constipated.
Symptoms of Constipation in Babies
Infrequent bowel movements with hard and dry stool.
Stool that is streaked with blood.
Excessive gas.
Irritability and tummy ache
Cause of Constipation in Babies
Slowness of digestive tract.
Breastfed babies are used to only breast milk which is very easy to digest. When baby starts solid food suddenly, the digestive system takes time to adjust. It gets better in a few days.
Lack of fluids in diet
Lack of fiber in diet
Sometimes certain foods like banana, applesauce or vegetables/fruits rich in iron may cause constipation in babies.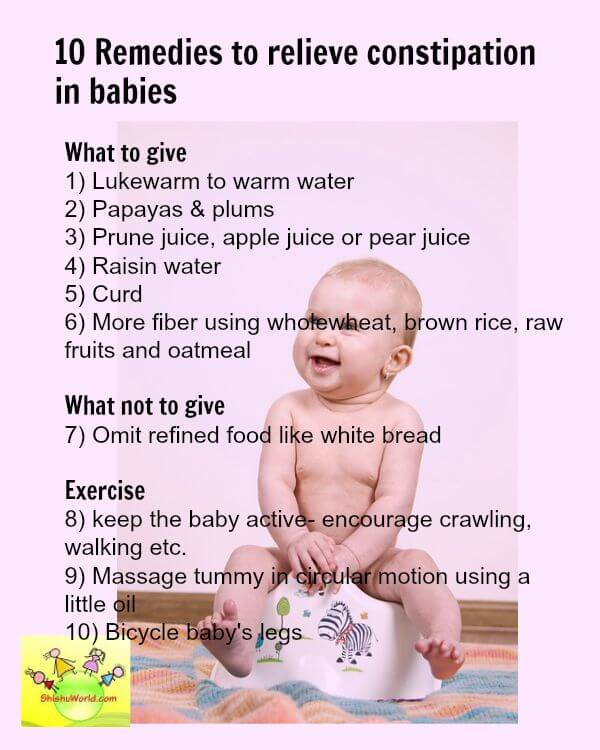 Relieving Constipation in Babies
Constipation is a temporary condition and you can help baby by following below tips :
Giving more water at regular intervals helps relieve constipation in babies
Give foods rich in fiber. Give well-cooked vegetables and fruits. If baby is old enough, you can give raw fruits too.
Give whole grains, e.g. wholewheat bread, brown rice, chapati etc.
Omit or lessen refined food like white rice, refined flour, white bread etc.
If baby is onto solids, you can also give some juices like prune juice, apple juice or sweetlime juice.
Many parents swear by raisin water as remedy for constipation. Soak 10-12 washed raisins in a half cup hot water and let it soak for 4-5 hours. Now blend and strain it to get only the liquid and remove the pith. Give this to your baby with spoon.
Fruits like papaya are natural laxatives. You can feed it to baby by cutting into pieces or by grating it to form a pulp.
Some parents also believe that giving warm milk or something warm to drink can make the baby go.
Add curd to your baby's diet.
Add oatmeal to your baby's diet to add fiber.
If baby is formula fed, changing formula may also help relieve constipation at times.
Do not give any suppository to baby without doctor's advice.
Exercise  to relieve Constipation
It is common knowledge that active people have better digestion and suffer less from constipation. This holds true for babies too.
Ensure baby gets lots of exercise right for her age. Encourage baby to crawl or walk.
Bicycling legs. Place the baby on her back and rotate both legs in circular motion by half bending legs alternately in bicycle motion. This exercise also helps relieve gas.
Massaging stomach. Massage the baby's stomach gently in circular motion. Place your hands on baby's navel and move hands in circular motion. See video here.
Warm bath. Some parents swear that warm bath helps their constipated baby.
When to consult a doctor ?
Constipation in babies is usually a temporary condition which gets better within a few days with introduction of water and fiber, but if it goes on for more than 3-4 days or it happens regularly, you should mention it to your baby's doctor :
If condition does not improve after 4-5 days of constipation.
Constipation keeps bothering your baby again and again.
If baby develops fissures, i.e. baby's skin gets torn due to hard stools and straining.
If none of these remedies seem to help, your doctor may prescribe some laxative or suppository.
Infrequent bowel movements in breastfed babies
Occasionally, some exclusively breastfed babies do not pass motions for many days at a stretch. This does not mean they are constipated. Breast-milk is almost 100 percent digested and there is not much residue left to pass hence it is common for breast-fed babies to pass bowel movement every other day. Some babies can go even up to a week before passing bowel movement.
On the other hand, there may be babies who pass every day or even many times a day. Both conditions are normal as long as the motion is soft and baby does not have to strain.