Continued from: 18 Healthy Meal Ideas for Picky Kids
Poha (Chivda) Cutlet
This is a great way to feed kids when they don't want to have a regular meal. It looks like a snack and is very delicious.
Ingredients
1 cup thick beaten rice (chivda)
1 large boiled potato
1/2 cup boiled green peas
1 egg
½ tsp Cumin powder
2 tbsp roasted peanuts crushed roughly
1 tbsp chopped mint leaves
2 tbsp chopped coriander leaves
Breadcrumbs to coat
Oil to shallow fry
1 tbsp milk
Salt and pepper to taste
Recipe
Soak the beaten rice in warm water and keep aside for 5-10 minutes. Strain all the water out and keep aside.
Mash the potato and peas to a smooth texture.
Mix soaked poha to it and mix well to a consistent mixture.
Add salt and pepper to taste.
Add cumin powder, mint and coriander leaves.
Finally add roasted peanuts and mix well to a uniform consistency.
Make small cutlets of preferred shape and keep aside.
Break the egg, beat lightly and keep in a flat wide-mouthed dish.
Add milk and mix with egg.
Dip cutlets in egg mixture and roll in breadcrumbs on all sides. Keep aside to set.. Tip: You may also keep prepared cutlets in refrigerator for some time.
Heat a pan and pour enough oil to shallow fry the cutlets.
Fry cutlets on medium heat till golden brown.
Serve with green chutney or tomato sauce. 
Idli Sandwich Dessert
Kids often get bored and do not want to eat the same old, plain but healthy stuff. A little effort to reinvent the thing might just be the motivation that the child needs to eat the same dish. Here we have converted regular idlis to sweet, sandwiched dessert which looks nothing like its original.
Ingredients
Ready idlis
Mixed fruit jam (or any flavour that your child likes)
Icing sugar /chocolate powder
Recipe
Cut the idlis into halves horizontally.
Apply jam on one half of the idlis.
Cover with the other half to form sandwiches.
Cut into halves and sprinkle with icing sugar or chocolate powder.
Tip: You may also use chocolate syrup or nutella in place of jam.
Masala Oats
Oats are a really healthy option of grains and a good choice for adults and children alike. This is a simple and tasty recipe for oats lovers, which is different from regular porridge.
Ingredients
1 cup instant oats
1 cup mixed vegetables chopped fine (peas, carrots, beans, capsicum, corn etc)
1 small onion chopped fine
1 small tomato chopped fine
½ tsp cumin seeds
½ tsp garam masala
1 tbsp chopped coriander leaves
1 tsp oil
¼ tsp turmeric poder
Salt and pepper to taste
Water
Recipe
Heat oil in a heavy bottomed pan.
Add cumin seeds.
Once they start crackling, add onions and sauté for some time till soft.
Add turmeric and tomato and sauté till they get cooked.
Now add chopped veggies, sauté and cook for some time.
Add salt and a little water and cook covered till all veggies are 80% cooked.
Now add oats and mix well with everything.
Add 1-2 cups of water to get the consistency you like. Adjust the water to get the consistency you like.
Cook oats for 2-3 minutes and turn off the gas.
Finally sprinkle garam masala and coriander leaves.
Serve immediately as oats tend to become lumpy as they get colder. 
Multigrain Dosa or Addai

This recipe has been contributed by Purnima Venkat
She says  "This is my version of addai since we are vegetarians and I add a lot of dal for protein. This recipe also works well for diabetics!"
Ingredients
1 cup red rice/brown rice/ or regular parboiled white rice
1 tbsp raw rice
1 cup tur dal
1 cup black urad daal
1 cup green moong dal
1 teaspoon methi seeds
½ inch piece ginger
1 pinch asafoetida/hing
Salt to taste
Oil to fry
Water as needed
Recipe
Soak rice and dals together overnight.
Wash these well the next day and then grind them coarsely with little water, ginger, asafoetida and salt.
Leave the mixture to ferment for about 3-4 houurs. You can make dosas immediately also but they come out better if allowed to ferment.
Heat a non-stick griddle or tawa.  Grease with a little oil.
Take a ladle of the mixture and spread to make a small dosa. Cover to cook.
Once cooked on one side, turn it over and cook the other side as well adding oil as needed.
To make this more nutritious, over you can add some vegetables like grated carrots, beets, spinach, fenugreek leaves etc before turning over.
Let it cook for about 2 minutes on each side on a medium heat.
Serve this with curd to the baby.
Purnima is a social worker, writer and trainer by passion and mother to a one year old by absolute delight!! She cooks as an art and loves creating easy, simple and fun things for her family. Books are her lifeline and let her breathe in an otherwise non-stop day. She blogs at http://purnimavenkat.blogspot.in and looks forward to hearing from all of you!!
 P.S.If you would like to contribute to Shishuworld, write to us at priya@shishuworld.com
Kid-Friendly Chilli Idli
I love idlis. I think they are awesome for kids, but how much can they eat the same stuff over and over again. We have earlier given recipes to reinvent regular idlis – colourful idlis and Idli sandwich dessrt. This one here is a kid friendly version of chilli idli. This one here is non-fried, non-spicy, no MSG and loaded with veggies.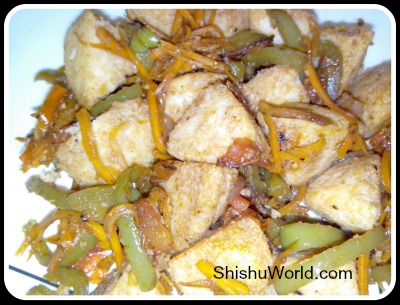 Ingredients
8 Prepared Idlis
1 large carrot – julienned
1 capsicum – julienned
Red and Yellow bell peppers – julienned ( Optional, to add color)
1 large onion- sliced
1 tsp chopped garlic
1 tsp ch
1 large tomato – chopped
1 tsp – Light Soy Sauce
1 tsp – Chilli sauce
2 tbsp – Tomato sauce
1 tbsp – Vegetable oil
Salt and pepper to taste
Recipe
Cut Idlis into quarters and keep them aside.
Heat oil in a wok.
Add garlic and ginger and let it brown.
Add onions and sauté them for couple of minutes.
Add tomatoes and sauté for a few seconds till tomatoes are a little soft.
Now add the peppers and carrots and sauté on high heat.
Add salt and pepper.
Add soy sauce, chilli sauce and tomato sauce.
Mix well and add idli pieces.
Toss everything well and adjust sauces and seasoning as per your child's taste.
Vegetable tahri / tehri for Toddlers
Vegetable tehri or tahri is a delicious and nutritious recipe which can be loaded with veggies and is a complete meal with a side of yogurt. Tehri come from Uttar Pradesh region of India and is a rustic dish though it can be made very wholesome. It is similar to pulao but not as rich as a pulao.
This vegetable tehri recipe has been sent to us by Richa Chhabra, a mum to an active 2 years old boy and a regular reader of ShishuWorld. Richa, thank you so much for sharing your son's favorite dish with us.
Ingredients
1 cup basmati rice
1 cup chopped mixed vegetables (peas, beans, carrots, cauliflower florets, peppers)
2 medium potatoes quartered
1 medium onion sliced
1 tsp ginger paste
1 garlic paste
1 cardamom
1 bayroleaf
2 cloves
1 stick cinnamon 
½ tsp cumin seeds
½ tsp turmeric powder
1 tsp ground cumin
2 tbsp ghee
2 tbsp chopped coriander
Water
Recipe
Wash the rice and soak it for 30-60 minutes.
Heat ghee in a heavy-bottomed pan.
Add cinnamon, bay leaf, cloves, cardamom and cumin seeds.
Add onions., ginger and garlic. Saute for a 2-3 minutes.
Now add turmeric and sprinkle a little and cook for 5 minutes till onions are soft.
Add potatoes and other vegetables and mix well.
Add 2 cups water , bring to a boil and let it cook for 10-15 minutes covered on low heat.
Add soaked rice and coat well with spices and vegetables, taking care that rice does not break.
Add enough water to cook the rice and cook covered on low heat till rice is cooked.
Garnish with coriander leaves and serve with curd or raita.
Gur/ Jaggery Parantha
Winters mean craving for comfort food and this recipe is just that. Gur or jaggery is very good for winters and keeps body naturally warm. Ghee and gur have been advised in Ayurveda for their benefits and is very good for children in small quantities.
Ingredients
Wholewheat dough/ Atta
1 tsp grated jaggery/gur (good quality)
1 tsp ghee
Dry flour to dust
Recipe
Roll a golf ball sized ball of dough to about 4 inches diameter.
Spread ghee using a soon.
Pour grated gur in the center and join the sides to make a ball again, just like you do for any other stuffed parantha.
Now roll the parantha using the dry flour, taking care that it does not get torn.
Heat a tawa or skillet and put the parantha to cook.
Once roasted on side, flip and apply ghee.
Roast for about a minute and flip again and apply ghee on other side too.
This parantha is not only delicious but very good for your child too, especially during winter season.
Table of contents:
Pages: 1 2